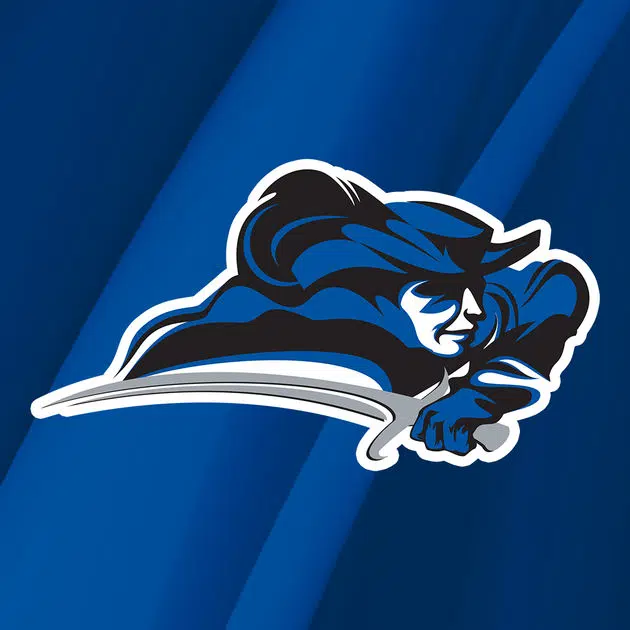 COLUMBIA, Ky. – The Lindsey Wilson men's track and field team captured the 2017 Mid-South Conference Outdoor Track & Field Championship on Tuesday at Blue Raider Stadium.
The Blue Raiders racked up 230 points over the three-day event which was 25 more than runner-up Cumberlands (Ky.). It marks the fourth consecutive MSC Outdoor title for the men's program.
After the conclusion of competition, Cameron Murphy was named Athlete of the Year for scoring the most points during the competition. Head coach Jamaine Gordon along with Cumberlands coach Randy Greer were named 2018 Co-Coach of the Year.
Kevin Hallmon finished first in the 100 meter dash to earn First Team All-Conference. Hallmon earned a national B standard with a time of 10.67 seconds. Hallmon also won the 200 meter with an A cut time of 21.47.
The 4×400 meter relay team of K'Lan Harris, Jaylyn McMurry, Christian Whitehead and Hallmon earned First Team All-MSC honors finishing in first. The quartet finished in 3:18.41 earning 10 team points.
Lindsey Wilson finished first and second in the triple jump on Tuesday. Goabaone Mosheleketi won the event with a distance of 15.47 meters earning an A cut. Anthony Thompson finished runner-up with a distance of 14.33 meters for a B standard.
Cameron Murphy earned Second Team All-MSC honors with a runner-up finish in the 110 meter hurdles. Murphy finished the event in 15.74 second earning eight team points. Pierre Ezanno finished third in the 110 meter hurdles and picked up six team points. Murphy then finished third in the 400 meter hurdles.
Holt Keeling finished third in both the 100 meter and 200 meter dash. In the 100 meter dash Keeling finished in 11.09 seconds and in the 200 finished with a time of 22.01 earning a combined 12 team points.
The Blue Raiders are back in action on May 5 for the Kentucky Relays in Lexington, Kentucky.