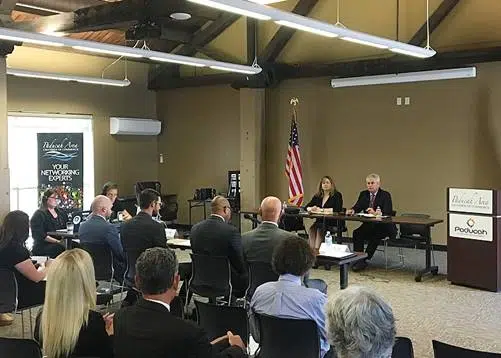 Congressman James Comer (KY-01) chaired a Small Business Committee Field Hearing in Paducah on Monday. The hearing served as an opportunity for business leaders on the ground in Western Kentucky to offer ideas on how the House's Small Business Committee, and Washington as a whole, can better represent small business interests.
"Hearing from a great panel like this is so important to keeping in touch with what business leaders in my district need to succeed," Congressman Comer said. "After hearing each of their testimonies, I'm reinvigorated to return to Washington and continue to fight for policies that allow entrepreneurs to start businesses, access the capital they need, and spend more time running their businesses than dealing with burdensome regulations."
Witnesses Bruce Kimbell of First Community Bank of the Heartland, Leon Owens of Swift & Staley Inc., Edward Musselman of Musselman Properties, and Jonas Neihoff of Socially Present offered their expert witness testimonies.