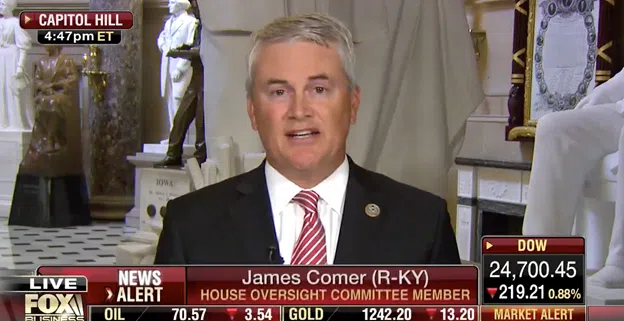 Congressman James Comer (KY-01) appeared on After the Bell to discuss the upcoming testimony by FBI Deputy Assistant Director Peter Strzok before the House Oversight and Government Reform Committee and Judiciary Committee Thursday, and to address the controversy surrounding former FBI lawyer Lisa Page's refusal to comply with a congressional subpoena.
"When you have two very important investigators in the Hillary email scandal, as well as the Russia investigation, with this type of bias – it's very concerning," said Congressman Comer.
As a member of the House Oversight Committee, Congressman Comer will question Strzok about his actions as the FBI's top counterintelligence officer during the Clinton email investigation and the investigation into Russian attempts to interfere in the 2016 election, as well as his concerning anti-Trump text messages and political bias throughout these investigations.