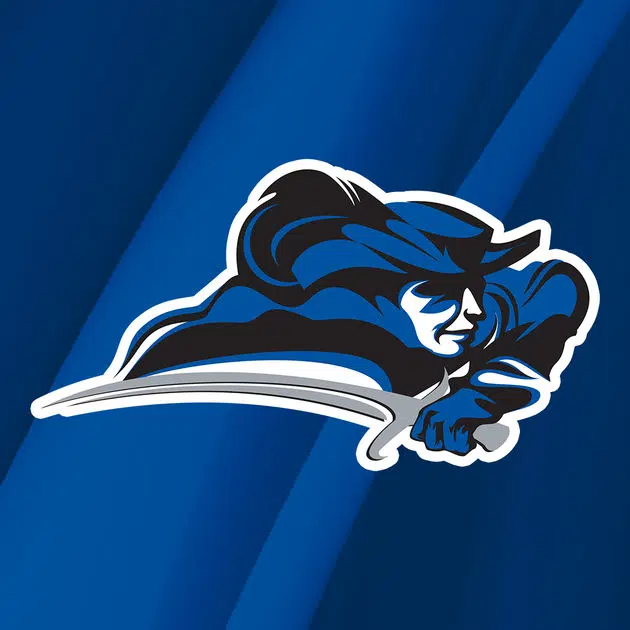 COLUMBIA, Ky. – Goabaone Mosheleketi captured a pair of individual national titles as the Lindsey Wilson men's outdoor track & field team took home a sixth-place finish at the 2018 NAIA Outdoor Championships in May.
Mosheleketi won his national titles in the long jump and triple jump events. He first won the long jump with a narrow margin of victory of just .01 meters. He then followed by dominating the field in the triple jump to claim his second national title and the third overall of his career. Mosheleketi also won the triple jump title at the 2017 NAIA Outdoor Championships. For his performances, he was named the Most Valuable Performer at this year's championship event. The titles were the seventh and eighth in men's track & field program history.
On the conference level, the Blue Raiders won the Mid-South Conference Championship by a margin of 25 points.
o   Goabaone Mosheleketi – Long Jump
o   Goabaone Mosheleketi – Triple Jump
o   Goabaone Mosheleketi – Long Jump, Triple Jump
o   Anthony Thompson – Triple Jump
o   Kevin Hallmon – 100-meter dash, 200-meter dash
o   Kevin Hallmon, Christian Davis, Holt Keeling, Jaylyn McMurry – 4×100-meter relay
USTFCCA NAIA Outdoor Track & Field National Men's Athlete of the Year
o   Goabaone Mosheleketi
Mid-South Conference Athlete of the Year
o   Cameron Murphy
Mid-South Conference Co-Coach of the Year
o   Jamaine Gordon
Mid-South Conference First Team
o   Kevin Hallmon – 100-meter dash, 200-meter dash
o   Jaylyn McMurry – 400-meter dash
o   K'Lan Harris, Jaylyn McMurry, Christian Whitehead, Holt Keeling – 4×400-meter relay
o   Goabaone Mosheleketi – Long Jump, Triple Jump
o   Cameron Murphy – Decathlon
o   Seth Hardwick – 5,000-meter racewalk
Mid-South Conference Second Team
o   Cameron Murphy – 110-meter hurdles
o   Christian Whitehead – 400-meter hurdles
o   Anthony Thompson – Long Jump, Triple Jump
Mid-South Conference Athlete of the Week
o   Levi Owens – Track – Mar. 28
o   Anthony Thompson – Field – Mar. 28
o   Kevin Hallmon – Track – Apr. 11
Academic All Mid-South Conference
o   Drew Morgan
o   Bryson Morris
o   Austin Sparrow
o   Caleb Watson