Adair County Constable Office District 6 has issued an advisory for a Casey County Escaped Inmate.
Liberty Police are on the lookout for 46 year old Jennifer Shackelford of Middlesboro.
She walked away from work camp last night on Campbellsville Street.
Shackelford was last seen wearing a white t-shirt, with grey sweatpants.
She took a shower curtain and a small black bag with her.
Shackelford was being held on charges of theft, tampering with a witness and theft of identity.
Jennifer Shackelford is described as 5 feet 4 inches tall, about 180 lbs, with dark curly hair.
Any one with information as to her whereabouts are asked to contact law enforcement or Liberty Police at 606-787-6371.
UPDATE – Kentucky State Police
Troopers and local law enforcement are currently attempting to locate 46 year old Jennifer Shackelford of Middleboro. On September 19th, 2018 at approximately 00:30 AM EST Post 15 was notified of an escapee from Liberty Ranch, a women's recovery home, in Kings Mountain. It is believed Shackelford walked away from the facility this morning around 00:20 AM EST.
Shackelford is a 5"4", 180 lb. white female with brown hair and green eyes.  She was last seen wearing a white t-shirt and grey sweatpants.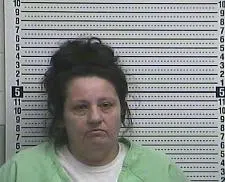 State Police are asking for the public's help in locating Shackelford and are encouraged to dial 911 or KSP toll-free at 1-800-222-5555, if they have any potential information regarding her whereabouts. 
Trooper Zach Scott is continuing the investigation.
****************************************************************UPDATE*****************************************************************
Jennifer Shackelford has been arrested by the Casey County Sheriff's Department at approximately 10:54 AM EST; she was lodged in the Casey County Detention Center.