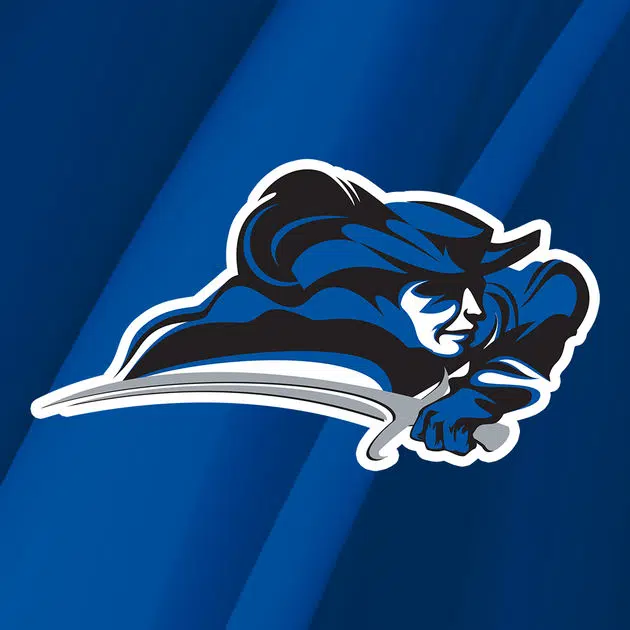 CUMBERLAND, Tenn. – The Lindsey Wilson men's basketball team fell in Mid-South Conference action on Saturday afternoon at the Dallas Floyd Recreation Center by a final score of 77-70.  Lindsey Wilson lost after Cumberland was able to outscore the Blue Raiders, 33-18, over the final 12 minutes of the game after LWC led by as many as eight in the second half.
The Blue Raiders shot an even 40 percent from the floor while going 8-of-22 from beyond the arc in the loss. Cumberland managed to put up 13 more shots than the Blue Raiders as they finished the game connecting on 28-of-68 of their attempts due in large part to their assertiveness on the glass, out rebounding LWC 43-34.
Kel Stotts led the Blue Raiders with 21 points after going 8-of-10 from the field and connecting on 8-of-9 free throws. Mathew Eldridge added 13 points and nine rebounds, just missing out on a double-double. Pierre Lys and Shakaris Laney were the only other Blue Raiders in double figures with 10 points.
Over the first 3:20 of action Lindsey Wilson was able to take a 6-5 advantage off of four points by Fredens Deneus, but a 12-3 run by the Phoenix gave Cumberland a 17-9 lead with 12 minutes to play in the half.
Five different Blue Raiders managed to get in on the offensive effort over the next six minutes as LWC clawed their way back to tie the game at 24-24. Six points by Stotts and four by Lys would push the Lindsey Wilson to their largest lead of the half – five points – at 33-28 with 2:16 to play.
Cumberland managed to tie the game at 33 just over a minute later but LWC would take a two point lead into halftime.
Lindsey Wilson would push their lead to eight points in the second half as they were able to build a 52-44 advantage with 11:51 to play.
From there Lindsey Wilson went cold from the field over the next seven minutes as they went 0-of-5 from the floor and committed three turnovers. Cumberland would lead by six before Jalon Perry broke the scoreless drought with a three as CU would lead 61-58 with five minutes to play.
Cumberland extended their lead to eight with 2:42 to play. As LWC began fouling to try and mount their comeback, Cumberland was able to connect on 6-of-9 attempts from the charity strike to put the game away.
Lindsey Wilson is back in action when they hit the road for a MSC matchup with (RV) Georgetown (Ky.) at 7 p.m. CT in Georgetown, Kentucky.