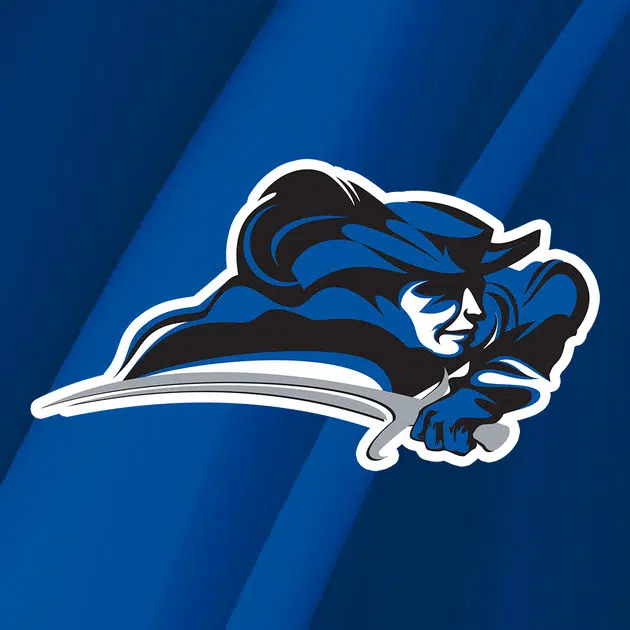 Louisville, Ky. – The Lindsey Wilson wrestling team won two duals after dropping their first of the day at the National Collegiate Wrestling Association (NWCA) 2019 Multi-Divisional National Duals on Friday at the Kentucky Expo Center.
Lindsey Wilson won just four matches in their first dual against Mid-South Conference rival No. 19 Campbellsville (Ky.) resulting in a first round loss but the Blue Raiders found themselves in their second dual against No. 16 Williams Baptists, winning in dominating fashion after taking 9-of-10 matches. LWC won seven of their matches via extra point victories as they racked up three pin falls and major decision victories while adding one technical fall victory.
The Blue Raiders were able to keep their tournament hopes alive another day when they took down No. 4 Providence (Mont.) 28-14 to close out their first day of competition.
Seven Blue Raiders also competed in the NUWAY open at the Kentucky Expo Center during the day as Raynel Brown and Austin Deffenbaugh both managed to place.
Brown picked a third place finish in the heavyweight class at the open after starting his day by pinning Ryland Boyer of Southern Oregon to the mat in just 27 seconds. He then advanced in the bracket via a forfeit but was defeated by Nick Fowler during the semifinals to fall to the third place bout. Brown would take third place when he took down Seth Bloor of Wheeling Jesuit on a 5-3 decision.
Deffenbaugh took sixth place at 165-pounds and opened his day with an 11-3 major decision victory over Grady Alpert of Ithaca and would then defeat Haakon Mathewson of Centenary in extra time when he won during TB-1 on a 12-11 final score. Deffenbaugh would fall to the consolation bracket with a loss during his next match. After picking up back-to-back wins via medical forfeits, he advanced all the way to the fifth place bout where he finished in sixth place after losing to Luke Ewing of Seton Hill.
No. 8 Lindsey Wilson 11 – No. 19 Campbellsville 24
The Blue Raiders got the event started with a loss to Mid-South Conference rival Campbellsville in the first matchup of the day. The Blue Raiders won four total matches during the dual as all of their wins came via decision victories.
Campbellsville struck first with a victory at the 125-pound match, but Brady Moser (ranked No. 15 at 133 pounds) tied the match when he upset Marvin Galette (No. 10 at 133) on a 3-1 decision victory. The Tigers recorded back-to-back wins, the first a 8-3 decision at 141-pounds and the second a six-team point victory after LWC forfeited the 149-pound bout, giving Campbellsville a 12-3 advantage.
Derrick Smallwood (No. 8 at 157) picked up the Blue Raiders second match win of the dual on a 6-1 decision over Chandler Woenker but the Tigers Gavin Smith quickly responded with a pin in 6:41 during the 165-pound bout to take a 18-6 lead with four matches to go.
At 174-pounds LWC's Brett Bradford (No. 10 at 174) was able to defeat Mahlic Sallah (No. 19 at 174) on a tight 8-7 decision. Campbellsville found their way to victory at 184 and 197-pounds both on decisions to increase their lead to 24-9.
Brandon Reed, the top ranked heavyweight wrestler in the NAIA picked up a 3-1 sudden victory-1 win over Ashton Mutuwa (No. 10 at Heavyweight) to close out the match. The Blue Raiders picked up a one point unsportsmanlike penalty during the match as they would fall 24-11 in their first match of the National Duals.
No. 8 Lindsey Wilson 29 – No. 16 Williams Baptist 6
Cagen Wallace (No. 14 at 125) opened the Blue Raiders second match of the day against Williams Baptist with a tightly contested 8-6 win over Robert Fairchild.  Moser would pick up his second win of the day when he was able to pin Terrell Pampkin in just 2:44.
The Blue Raiders again had to forfeit the 141-pound bout, giving up six team points to Williams Baptists.
Austin Ramsey would double the Lindsey Wilson lead to 12-6 during the 149-pounds match when he was able to defeat Pierre Dowling on a narrow 4-3 decision victory.
Mark Taijeron would keep the momentum going in the next bout when he won in domination fashion over Erik Cooley as he picked up a 21-5 major decision victory. Smallwood wrestled up a weight class for the Blue Raiders where he was able to pin Tristan Meador in just 2:38 to vault the Blue Raiders to a 23-6 lead.
Bradford picked up LWC's third pin of the match when he took down Daryus Webb, just 1:04 into the second period. Lucas Miozza picked up LWC's fifth extra point victory of the match when he defeated Christian Cara on a 13-3 major decision victory.
Avery Buckman (No. 13 at 197) then tallied a 15-7 major decision victory over Branden Zini as Reed would add a one final major decision victory in the match as he defeated Tyler Giorgini by a 16-4 margin.
No. 8 Lindsey Wilson 28 – No. 4 Providence 14  
Lindsey Wilson was able to extend their stay in Louisville another day when they took down Providence 28-14 to close out the first day of competition. LWC jumped out to a quick 13-0 lead after three matches when Wallace won on an 11-0 major decision, Moser pinned his opponent in 5:49 and Ramsey won an exciting 6-4 decision in the first sudden victory period.
Providence trimmed the LWC lead by six when Lindsey Wilson again forfeited at 149-pounds.
Smallwood then notched a 13-8 decision victory over Jarren Komac at 157-pounds to give Blue Raiders a 16-6 lead at the halfway point.
Lindsey Wilson picked up three more wins in the remaining five matches.
At 174-pounds Bradford pinned Alex Quick just before time expired in the first period at 2:59. Miozza added a 6-1 upset victory over Randy Keesler (No. 12 at 184) as Reed squared off in a top tier matchup against Mathew Hopkins (No. 4 at Heavyweight) and was able to pull out an 8-6 decision win, giving the Blue Raiders a 28-14 victory.
Lindsey Wilson is set to square off with Southeastern (Fla.) tomorrow morning at 8 a.m. CT for a chance to compete in the fifth place dual match. The Blue Raiders last competed against the Fire earlier this season when they battled their way to a 29-10 victory on the road.